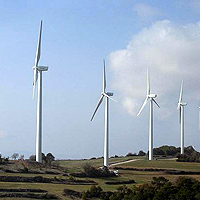 Strategy and objectives
Energy is a strategic sector and Copcisa Corp's goal is to be a key player in the area. Various activities are carried out in this field through development and generation. These are implemented via the company's own projects and shareholdings in specialist companies such as Eissl and Naturener.
Copcisa Eléctrica is committed to being a standard bearer of a new energy model guided by sustainability criteria. The company has a total of four wind farms in the planning phase with a total capacity of 136.8 MW. It has a shareholding in Eissl, a company dedicated to hydroelectric power (23 mini power stations with a capacity of 53.1 MW) and wind power (2 wind farms with a capacity of 28.6 MW).
Copcisa Eléctrica also has a shareholding in Naturener, a company principally dedicated to electricity generation through the operation of fourteen weirs, two wind farms and four photovoltaic plants. In total, its installed capacity is 297 MW.
Copcisa Eléctrica is determined to spearhead a new energetic model based on sustainability criteria.
We are currently involved in energy generation.